Grilled Garlic & Basil Pork Tenderloin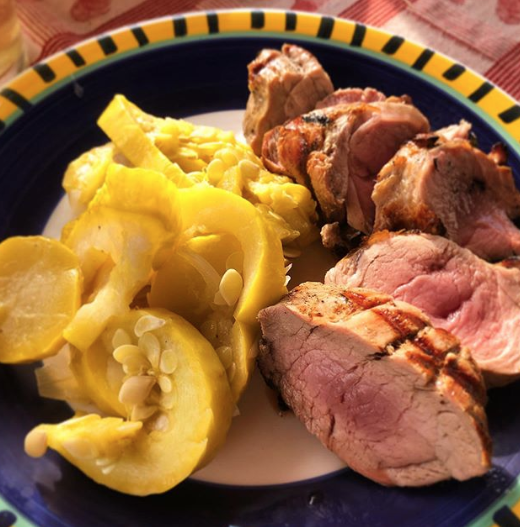 Things You Might Want to Use
Stuff You'll Need
3

oz

olive oil

4

cloves

garlic, chopped

1

handful

fresh basil, chopped

1

pork tenderloin (1-2 lbs.)

salt and pepper to taste
How to Make It
Pour the olive oil into a large storage bag.

Add the chopped garlic and basil.

Pop in some salt and pepper to taste.

Shake it all up. You could shake it like its hot...but its not.

Add the pork tenderloin (trimmed if you like).

Shake some more but not all night long.

Remove air from bag before sealing.

Massage the herbs (through the bag) into the loin.

Put in the fridge for 4 hours to let it marinate.

Fire up the grill and keep it on high heat.

Put the marinated tenderloin on and sear one side for 2 minutes.

Flip it and sear the other side for 2 minutes.

Lower heat to low. Grill for 6 minutes.

Flip and grill 6 more minutes.

Remove from the grill and let rest for a bit.

Slice and serve with fresh buttered summer squash from our garden. Not yours. Ours.